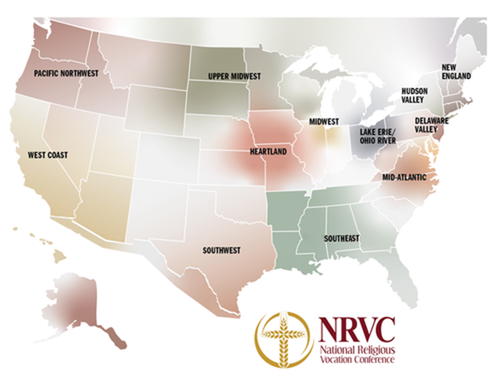 ---
Click here to locate members of the NRVC in your member area.

Renew membership by Dec. 31 to keep benefits
If you have not yet renewed your membership, please be sure to do so. Remember: To be able to apply next year for an education grant from the National Fund for Catholic Religious Vocations, you must sign up by December 31 to be a 2021 NRVC member. Go to nrvc.net/signup. Please direct any questions to Marge Argyelan at margyelan@nrvc.net or 773-490-6556.
---

Resource of the month: "Discerning Your Vocation"
Consider giving this helpful booklet to discerners for Christmas. "Discerning Your Vocation: Religious Life and Diocesan Priesthood" is written for people of all ages and is 20 pages long. It has been adapted with permission from the book Vocations Anonymous by longtime NRVC member Sister Kathleen Bryant, R.S.C. The booklet explains prerequisites for admission, suggests questions to ask vocation directors, and helps readers form questions about vowed communal life and diocesan priesthood. It's an excellent resource for anyone considering consecrated or ordained life. Only $2 each for members, $3 for non-members. Order some today.
---

Misericordia scholarships number 200
During November 2020 NRVC reached a milestone with its Misericordia Scholarship Fund: It gave out its 200th award since the program's inception in 2015. That means 200 times religious communities have been able to pay membership dues, send someone to a workshop, or attend Convocation. Nearly $100,000 has been distributed. Thank you to the many generous donors who have made this possible. Learn more or contribute here.
---

19 videos of newer religious available for your use
Nineteen short videos of newer sisters, brothers, and priests discussing community life, intercultural living, and what gives them joy and hope are available online for your use. Consider using these 1-3 minute videos for an online presentation, community discussion, on your social media pages, etc. Produced by NRVC and released last month for National Vocation Awareness Week, these videos are a free resource for anyone exploring or promoting religious life. Find them on the NRVC YouTube page.
---

Storymap "Religious Life Today" coming soon
NRVC will soon introduce its new storymap, "Religious Life Today," which will present the results of the 2020 Study on Recent Vocations to Religious Life in a highly visual, online format. The storymap, funded by the GHR Foundation, will give users an additional way to explore data from the study, including geographic maps of certain data and much more. In the coming weeks, the NRVC will email the storymap to members, collaborators, study participants, and VISION Vocation Guide discerners.
---

Nominate yourself or another to NRVC Board
The NRVC Board invites members to nominate by January 31 themselves or another member to serve on the board. Service requires two to three meetings per year (lasting three days), and begins in fall 2021. Interested parties are encouraged to discuss this opportunity with current board members. Details and nomination forms are available here.
---

National office closed Dec. 24 - Jan. 3
The NRVC office will be closed for the holidays from December 24 through January 3. May you experience a holy Christmas season and a New Year filled with hope, peace, and God's blessings.
---

Member area Zoom meetings
The following NRVC member areas are meeting online in the coming weeks. Keep in mind that any NRVC member can attend these gatherings for networking and on-going formation.
Mid-Atlantic — December 9
West Coast — December 10
New England — January 12
Delaware Valley — January 19
Member area details, including coordinators for each area, are here.