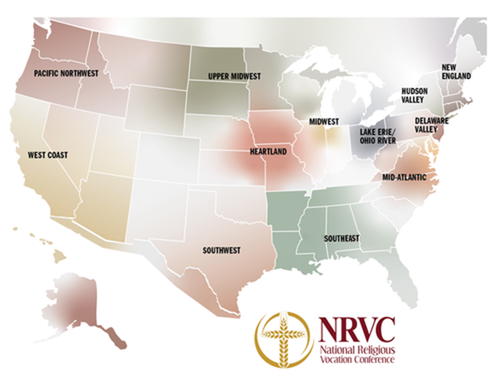 ---
Click here to locate members of the NRVC in your member area.

NRVC welcomes new director of membership
The NRVC extends a warm welcome to Sister Dina Bato, S.P., who begins August 15 as director of membership. With a bachelor's degree in accounting and a master's in pastoral theology, she has ministered in parish and young adult ministry and has promoted religious life vocations in a variety of settings. She took her final vows with the Sisters of Providence of Saint-Mary-of-the-Woods, Indiana in 2017. In addition to her NRVC position, Sister Dina is a Core Team member and Finance Committee chair for Giving Voice, an organization of younger women religious.
---

Resource of the month: Abundant Hope handout
This colorful new handout summarizes the hopes for the future of the 1,900 younger religious who were surveyed for NRVC's 2020 Study on Recent Vocations to Religious Life. It also contains facts about what drew them and who encouraged them. Consider using this handout for community discussions, perhaps in conjunction with the Abundant Hope video series. It's also ideal for vocation promotion in any setting. Download it for free or order packs of 50 for $25 for members, $37 non-members. Bulk pricing is available by calling 773-363-5454.
---

VISION and HORIZON win 9 awards
NRVC's publications, VISION and HORIZON, recently earned nine editorial awards from the Catholic Media Association. VISION was honored for its website and twice for feature writing. HORIZON won awards for essay writing, reporting on solidarity, coverage of racial inequality, its book review section, feature writing, and general excellence. Find details and links to the winning articles here.
---

Thank you, member area coordinators
The NRVC is most grateful to the following vocation ministers who are now stepping down after serving as member area coordinators. They cultivated networking, education, and support for NRVC members in their geographic areas. Thank you!
Brother Chris Patiño, F.S.C. (6 years) West Coast
Sister Maria Victoria Cutaia, O.S.B. (4 years) Heartland
Sister Mary O'Donovan, O. Carm. (4 years) Hudson Valley
Sister Stephanie Spandl, S.S.N.D. (4 years) Upper Midwest
Sister Judy Long, O.C.D. (2 years) Mid-Atlantic
Sister Barbara O'Kane, M.P.F. (2 years) Delaware Valley
Sister Kathleen Farrelly, O.Carm. (2 years) Southeast
---
VISION 2023 now available
The latest edition of NRVC's award-winning VISION Vocation Guide, is now available, both in print and online. Be sure to order your copies (if you haven't already) to share with discerners. You may also order multilingual bookmarks and posters that direct people to the VISION website.
---

Enhance convocation with an excursion
Consider enhancing your experience of our November 3-6 convocation by signing up for an optional excursion with participants to Historic Silver Valley, Idaho, roughly an hour away. This bus trip takes place on Sunday, the 6th, from 9 a.m. to 3 p.m., allowing participants to socialize, eat lunch together, network, and relax. Sights include Lake Coeur d'Alene, Old Mission State Park, Cataldo Mission, and Sacred Encounters, an exhibit about the Jesuits and the Coeur d'Alene tribe. Details are here. (Photo by Jami Dwyer, Flickr)
---
107 take part in Summer Institute
In July, the NRVC online Summer Institute delivered four workshops to 107 participants, including members of four new institutes that just joined the NRVC: Sisters of Our Lady of Mercy, Preachers of Christ and Mary, Priests of the Sacred Heart, and the Archdiocese of Port of Spain (Trinidad). Thanks to scholarships funded by the Hilton Foundation, guests attended from Giving Voice, Catholic Theological Union, and the National Conference of Vicars for Religious. The NRVC extends warm thanks to the workshop presenters: Brother Joseph Bach, O.S.F., Sister Deborah Borneman, SS.C.M., Father Raymond P. Carey, Dr. Ted Dunn, Brother John Eustice, C.S.V., and Father Adam MacDonald, S.V.D.
---

News and events of our collaborators
For a listing of events, job openings, resources, and more sponsored by NRVC's collaborators and HORIZON advertisers, click here.