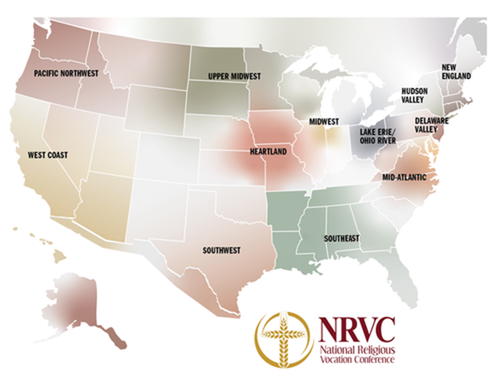 ---
Click here to locate members of the NRVC in your member area.
World Day of Prayer for Vocations April 25
April 25, Good Shepherd Sunday, will be the 58th World Day of Prayer for Vocations. This commemoration is an opportunity to pray for and promote vocations to consecrated and ordained life. Consider marking the day with an online or in-person prayer service, social media posts, vocational prayers during your liturgies, presentations at Masses, bulletin inserts, etc.
Pope Francis has released a message for the occasion, in which he notes that Saint Joseph (to whom this year is devoted) listened to dreams, dedicated himself to service, and acts as "the protector of vocations." Find details, resources, and ideas here.
---

Online event for Religious Brothers Day, May 1
All are encouraged to celebrate religious brothers on Saturday, May 1, 1:30-3 p.m. Central Time, via an online event featuring prayer, reflections, and small group discussions. The NRVC is co-sponsoring this event along with the Conference of Major Superiors of Men, Religious Brothers Conference, and the Religious Formation Conference. Register to take part. In addition, celebration information and resources are available from NRVC here, and from the Religious Brothers Conference here.
---

Resource of the month: "Listening to the Call" prayer cards
These attractive, postcard-size prayer cards are perfect for sending to discerners, graduates, and young adult contacts. The art conveys the sense of a multi-ethnic church, an important message for today's diverse Catholics. The front has space for your contact information. Only $3 for 100 cards; $5 for non-members. View the prayer card here; information and purchase are here.
---

Religious Life Today Storymap site brings study results to life
The NRVC released its Religious Life Today Storymap website on March 25, giving members and the public a highly visual, compelling way to understand contemporary realities and trends among those joining religious orders. The site brings to life the data from the 2020 Study on Recent Vocations to Religious Life. You are invited to scroll through this hope-filled resource, to share it with your members, and to add links to it from your website and social media sites. Thank you to the GHR Foundation for underwriting this project.
---
Behavioral Assessment 1: an essential workshop
July 19-21 online
Behavioral Assessment 1 is an essential workshop for all professional vocation ministers and will be offered online July 19-21. Taught in an interactive style by the experienced Father Raymond P. Carey, Ph.D., this workshop helps vocation ministers gain the skills needed to accurately interview and assess candidates based on their real-life behavior. Find details here about this workshop and others on orientation to vocation ministry, ethics, and cultural/generational/family issues.
---

Board selects new chair, vice chairs, and members
At its March meeting, the NRVC board appointed a new chair and vice chairs, effective immediately, and selected four new members who will begin serving in the fall. (See all of them here.) The new executive committee now consists of Sister Mindy Welding, I.H.M., chair; and vice chairs Father Adam MacDonald, S.V.D. and Sister Belinda Monahan, O.S.B., and Sister Deborah Borneman, SS.C.M. ex officio. The new board members to begin serving in the fall are Ms. Nancy Costello, a former Region 3 NRVC coordinator who works in communications and vocations for the Cabrini Sisters; Sister Nicole Trahan, F.M.I., who has published vocation related articles in HORIZON and elsewhere; Sister Cheryl Wint, O.S.F., of the Hudson Valley Member Area, and Sister Mary Yun, O.P., former coordinator of the West Coast Member Area. Congratulations to all, and warm thanks to Sister Kristin Matthes, S.N.D.deN., who has completed her service as board chair.
---

Donate to NRVC via Smile.Amazon.com
An easy, cost-free way to support NRVC is to make Amazon purchases using Smile.Amazon.com. The cost and process for purchases at the Smile site are the same as at the main site, and Amazon will donate .5 percent of the price of eligible purchases to your designated charity. To designate NRVC, simply follow the prompts at Smile.Amazon.com and type in "National Religious Vocation Conference" or "National Fund for Catholic Religious Vocations" for your charity. NRVC already receives checks from this program. Thank you to all our Smile participants!
---

Member area Zoom meetings
The following NRVC member areas are meeting online in the coming weeks. Keep in mind that any NRVC member can attend these gatherings for networking and ongoing formation. Member area details, including coordinators for each area who can provide information about gatherings, are here.
Heartland — April 22
Lake Erie/Ohio River — April 22
Delaware Valley — April 27
Pacific Northwest — April 30 (presentation on interculturality)
MidAtlantic — May 4
Southwest — May 4
Midwest— May 6 (presentation on due diligence)
International — May 22
---
I am NRVC: Sister Kathleen Branham, O.S.F.
Sister Kathleen Branham, O.S.F. has loved letting her creative juices flow in response to vocation needs during the pandemic. She's excited to be partnering with the Franciscan Brothers of Brooklyn to host a new Franciscan Online Discernment Group. Read more.