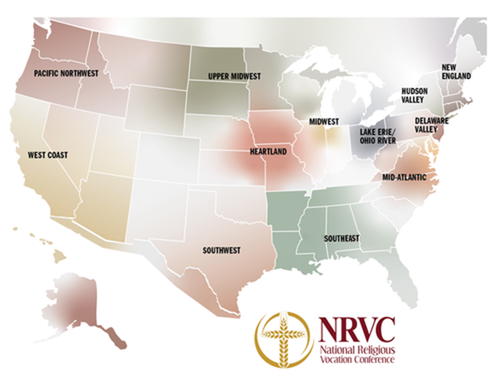 ---
Click here to locate members of the NRVC in your member area.

Convocation brings together nearly 200 in Spokane, WA
Nearly 200 people took part in the November 3-6 NRVC convocation in Spokane. They represented every member area, including Canada, Dominican Republic, Mexico, Peru, and the United Kingdom. The NRVC expresses special gratitude to attendees, invited guests, presenters, and sponsors for taking part in keynote presentations, Conversations on the Edge with partners in ministry, the Conversation Roundtable, and the awards banquet honoring Miguel Naranjo and the Catholic Legal and Immigration Network, and four outstanding NRVC members. Participants donated $1,991 to Transitions, to assist women and children facing poverty and homelessness in the diocese of Spokane.
The three keynote presentations will be in the winter 2023 HORIZON, another good reason to renew your membership. Please note that annual subscriptions are helpful to send to all those who support vocation ministry. Consider sending a HORIZON suscription to households in your community as an affordable way for your members to learn and be inspired about vocation ministry all year long.
If you would like to suggest a theme for the next convocation—to be held in Minneapolis, Minnesota, October 31 to November 3, 2024—contact a National Board member, as the board will choose a theme at its spring meeting.
---

Resource of the month: Abundant Hope Prayer Cards
The latest NRVC resource is a prayer card featuring our colorful convocation artwork by Sister Joni Luna, S.P. and a quote from Fratelli Tutti: "Hope is bold, it can open up grand ideals that make life more beautiful and worthwhile. Let us continue then to advance along the paths of hope." This card could be used in tandem with NRVC's Abundant Hope video series and/or the Abundant Hope handout. Consider giving it to supporters, discerners, employees at sponsored ministries, etc. A pack of 100 is $10 for members, $15 non-members. Order your prayer cards today!
---
Renew your membership; keep your benefits
If you still need to renew your membership for 2023, please do so. Continuing your membership will ensure you receive the benefits NRVC offers all our members without lapse. In addition, receipt of your renewal by December 31 allows your HORIZON subscription to continue without interruption. The next edition will carry invaluable information shared during the 2022 Convocation keynote addresses.
To renew online, go to nrvc.net/signup. Please direct any questions to Sister Dina Bato, S.P., NRVC's Director of Membership, at dinasp@nrvc.net or 317-519-3312.
---

Nominate yourself or another to NRVC Board by Jan. 31
NRVC members are invited to nominate themselves or another member by Jan. 31 to serve on the board. Service requires two meetings per year (each lasting three days) and begins in fall 2023. Interested parties are encouraged to discuss this opportunity with current board members. Details and nomination forms are available here.
---

World Day for Consecrated Life: Feb. 2
---

Curriculum for vocation directors is updated
At its September 2022 meeting, the NRVC board approved amendments to the curriculum for vocation ministers. The NRVC recommends that vocation ministers complete workshops in all the core curriculum areas before starting or early on in their vocation ministry, including orientation, ethics, behavioral assessment, role of the family, psycho-sexual integration, ecclesial competency, civil and canon law, immigration law, and safe environment protocols. Other topics are part of continuing and ongoing education recommendations. Thank you to those who served on the Curriculum Update Task Force: Brother Nicholas Romeo, O.F.M. Conv., Fathers Radmar Jao, S.J., and Andrew Laguna, S.J., Sisters Deborah Borneman, SS.C.M., Caryn Crook, O.S.F., Mary Jo Curtsinger, C.S.J., Michele Fisher, C.S.F.N., Rosemary Fry, C.S.J., Colleen Mattingly, A.S.C.J., Catherine Meighan, S.S.J., Mollie Reavis, S.N.J.M., Helene Sharp, C.S.C., and Valerie Zottola, C.S.J.
---

Donate to NRVC via Smile.Amazon.com
An easy, cost-free way to support the NRVC is to make Amazon purchases using Smile.Amazon.com. The cost and process for purchases at the Smile site are the same as at the main site, and Amazon will donate .5 percent of the price of eligible purchases to your designated charity. To designate NRVC, simply follow the prompts at Smile.Amazon.com and type in "National Religious Vocation Conference" or "National Fund for Catholic Religious Vocations" for your charity. NRVC already receives checks from this program. Thank you to all our Smile participants!
Tech tip: bookmark "smile.amazon.com" because donations only occur when shopping from this site. (No donations will be made when using simply amazon.com.)
---

News and events of our collaborators
For a listing of events, job openings, resources, and more sponsored by NRVC's collaborators and HORIZON advertisers, click here.