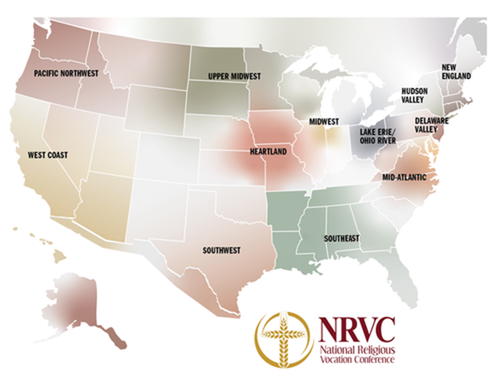 ---
Click here to locate members of the NRVC in your member area.

New board leadership for NRVC
At its April 2023 meeting, the NRVC board made the following changes to its leadership:
Board chair: Sister Nicole Trahan, F.M.I. (center)
Vice chair of finance and development: Mr. Len Uhal (right)
Vice chair of membership and data (until her term ends in December 2023): Sister Belinda Monahan, O.S.B. (left)
In addition, the board accepted the resignation of Sister Marichui Bringas, C.C.V.I. (2020-2023) and appointed the following individuals to serve as board members beginning in December, 2023:
Brother Joseph Bach, O.S.F.
Sister Margarita Hernandez, S.P.
Friar Mario Serrano, O.F.M. Conv.
Brother Edward Shields, F.S.C.
Sister Gail Trippett, C.S.J.
Thank you to all of these NRVC members who have stepped up to help lead our organization!
---

Thank you, member area coordinators
The NRVC extends warm thanks to the following people who have served as member area coordinators and are completing their terms of service on June 30, 2023.
Eight Years:
Pacific Northwest: Sister Christine Still, O.S.F.
Six Years:
Heartland: Ms. Lori Benge
Lake Erie/Ohio River: Sister Monica Seaton, O.S.U.
Southwest: Sister Bridget Waldorf, S.S.N.D.
Upper Midwest: Mr. Gregory Darr
Five Years:
Southeast: Sister Colleen Brady, O.S.F.
Four Years:
West Coast: Sister Nancy Uhl, S.N.D.deN.
Three Years:
Hudson Valley: Brother Joseph Bach, O.S.F.
Two Years:
Pacific Northwest: Sister Teresa Shields, S.N.J.M.
---
Resource of the month: Religious Life Today booklets
This attractive, 16-page booklet gives an excellent overview of contemporary religious life, especially in terms of new membership. It summarizes the results of the 2020 NRVC study of recent vocations to religious life, using quotes from younger men and women who took part in the study. Order copies to give to community members, discerners, parishioners, and anyone who supports vocations to religious life. $1 each for members. $2 each for non-members.
---

Summer Institute; register now and avoid late fees
---

National Eucharistic pilgrimage to take place in summer 2024
A National Eucharistic Revival is underway in the United States, and a cross- country pilgrimage leading up to a July 2024 Eucharistic Congress will take place in the summer of 2024. Learn more here about how to get involved with this initiative to invigorate Catholics.
---
NRVC members: let us know if you will be taking part in World Youth Day
If you or your religious institute will be present August 1-6 in Lisbon, Portugal for World Youth Day, please let the National Religious Vocation Conference know so we can add you and/or your community's name to a list of NRVC members taking part. This allows pilgrims and others to network with our members. Most who visit our webpage on World Youth Day are planning to attend; many are pilgrims, youth ministers, and parents.
If you or your community will attend World Youth Day, please email Sister Deborah Borneman, SS.C.M. at debbiesscm@nrvc.net with 1) the full name of you and/or your religious institute and 2) whether you will have a booth at the Vocation Fair.
---

Member area meetings
A major perk of membership in the National Religious Vocation Conference is the ability to network with and learn from other vocation ministers. Any member can attend any member area meeting. For details, contact your member area coordinator or see member news.
Delaware Valley — June 5, via Zoom
Hudson Valley — June 10, via Zoom
Pacific Northwest — June 13, via Zoom
---

I am NRVC: Ms. Michelle Horton
Meet this mother, pastoral worker, teacher, and—for the last 10 years—vocation director for the Sinsinawa Dominicans. "I have been in relationship with the Dominican Sisters of Sinsinawa my entire life as a neighbor, teacher, parish co-worker, and as a Dominican Associate." Read more...
---

News and events of our collaborators