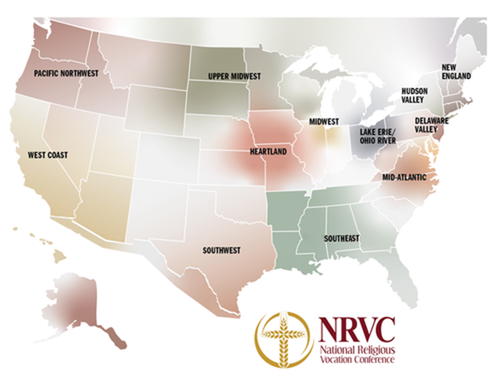 ---
Click here to locate members of the NRVC in your member area.

Resource of the month: "I hope you come to find" prayer cards
Ideal giveaways for your ministry, these beautiful prayer cards feature a vocational message from the words of martyred Maryknoll Sister Ita Ford. The back side of the cards lists prominent figures in Scripture who have answered God's call. These cards are postcard-sized (3 3/4 inches by 6 1/4 inches) and come in packs of 100. $6 for members. $9 for non-members. Order in English or Spanish.
---

2022 Convocation date, place, and keynoters
The NRVC will be holding an in-person convocation November 3-6, 2022, in Spokane, Washington with a theme of "Call beyond borders." Two keynoters will speak. One is Sister Barbara Reid, O.P., a New Testament scholar who is president of Catholic Theological Union in Chicago (CTU). The other is Father vănThanh Nguyễn, S.V.D., a professor of New Testament Studies and Francis X. Ford, M.M. chair of Catholic missiology at CTU. More details will be forthcoming at nrvc.net.
---

NRVC partnering with Ministry Training Source on research about youth and young adult ministry
To further our understanding of youth and young adult ministry leadership, the NRVC is collaborating with Ministry Training Source to support a research project that is beginning this month. The Ministry Training Source, under the leadership of Dr. Charlotte McCorquodale, is studying youth and young adult ministry leaders. Dr. McCorquodale was a presenter at a 2019 NRVC workshop on accompaniment and discernment.
---

Donate to NRVC via Smile.Amazon.com
An easy, cost-free way to support NRVC is to make Amazon purchases using Smile.Amazon.com. The cost and process for purchases at the Smile site are the same as at the main site, and Amazon will donate .5 percent of the price of eligible purchases to your designated charity. To designate NRVC, simply follow the prompts at Smile.Amazon.com and type in "National Religious Vocation Conference" or "National Fund for Catholic Religious Vocations" for your charity. NRVC already receives checks from this program. Thank you to all our Smile participants!
---

Board and staff take part in intercultural competency assessment and goal-setting
The NRVC board and staff recently met with Dr. Mylon Kirsky, founder and chief operating officer of Sidebar Education Consulting Group, for an Intercultural Development Inventory to assess the group's level of intercultural competency. Each person received a one-on-one consultation to provide key insights and create an intercultural development plan. This initiative is part of the NRVC's strategic plan goal to "advance the field of intercultural vocation ministry" and to "engage the culturally diverse young church."
This process is funded partially through a Conrad N. Hilton Foundation grant to the NRVC to create sustainable solutions to challenges in the organizational structure and financial model needed to build for the future of NRVC.
---

Member area meetings
For details, contact your member area coordinator or see member news.
West Coast -- December 6 via Zoom
Heartland -- December 9 via Zoom
Southwest -- December 21 via Zoom