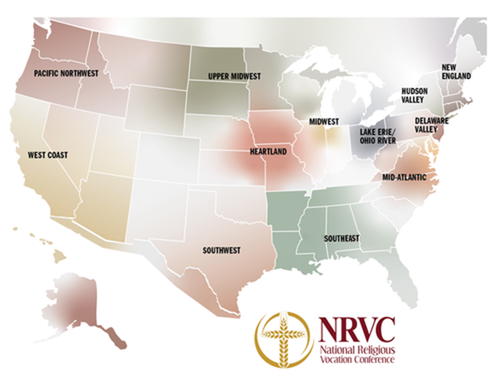 ---
Click here to locate members of the NRVC in your member area.

Webinar: "Creating a collaborative environment"
On January 13, 8 p.m. Eastern Time, two experienced diocesan vocation directors will present online "Creating a collaborative environment" for NRVC's third webinar in the series "Religious Life: Learn it! Love it! Live it!" This free, hour-long webinar will focus on working together with various sectors of the church to create a vocation culture and to invite young people to consider consecrated life. Presenting and taking live questions will be Father Guillermo Hernandez of the Diocese of Sacramento vocation office and Sister Ana Cecilia Montalvo, F.Sp.S. and Ana Bojorquez, both of the Archdiocese of San Antonio, Texas vocation office.
---

World Day for Consecrated Life: Feb. 2
Now is the time to plan your commemoration of World Day for Consecrated Life, which takes place February 2 (Feast of the Presentation). The NRVC has information and resources to help communities reflect on and celebrate the beauty of this way of life. Consider using one or more of our resources that help make information from the "2020 Study of Newer Vocations to Religious Life" easy for your community to reflect upon.
---

Resource of the month: "God grant me a discerning heart"
These two companion resources—a journal for discerners, and a guide for vocation directors—are indispensable for accompanying those who are exploring a call to religious life. These resources explore 14 themes using scripture reflection, quotes from Vatican II and church documents, and reflection questions. The discerner journal is $7 for members, $11 for non-members. The director's manual is $15 for members and $23 for non-members. Order your set today.
---

2022 Convocation date, place, and keynoters
The NRVC will be holding an in-person convocation November 3-6, 2022, in Spokane, Washington with a theme of "Call beyond borders." Two keynoters will speak. One is Sister Barbara Reid, O.P., a New Testament scholar who is president of Catholic Theological Union in Chicago (CTU). The other is Father vănThanh Nguyễn, S.V.D., a professor of New Testament Studies and Francis X. Ford, M.M. chair of Catholic missiology at CTU. Additional details are at nrvc.net.
---

Build our Future: subscribe to HORIZON
You already know that consecrated life unleashes a tremendous amount of good in our church and world. Stand with those who are constructing a robust future for religious communities. By subscribing to HORIZON, you will learn how communities are effectively inviting young people and how Catholics see the contemporary calling. Be part of HORIZON and help build up consecrated life! Members of NRVC receive an annual subscription with membership and also can receive a deep discount on additional subscriptions that they take out for others, such as various households in their communities.
---

"Data you need to know for vocation communications" webinar
The Communicators for Women Religious is sponsoring a webinar December 7 on "Data you need to know for vocation communications," which will feature NRVC's Sister Charlene Herinckx, S.S.M.O., director of membership, and Carol Schuck Scheiber, publications editor for NRVC. The one-hour webinar, which will focus on learnings from the NRVC study in 2020, "Recent vocations to religious life," will include a presentation and Q-A. The cost is $25; registration and details are here.
---

Donate to NRVC via Smile.Amazon.com
An easy, cost-free way to support NRVC is to make Amazon purchases using Smile.Amazon.com. The cost and process for purchases at the Smile site are the same as at the main site, and Amazon will donate .5 percent of the price of eligible purchases to your designated charity. To designate NRVC, simply follow the prompts at Smile.Amazon.com and type in "National Religious Vocation Conference" or "National Fund for Catholic Religious Vocations" for your charity. NRVC already receives checks from this program. Thank you to all our Smile participants!
---

Christmas break Dec. 23 - Jan. 2
The NRVC staff wishes members, friends, and collaborators a joyful Christmas and New Year. Please keep in mind that the NRVC offices will be closed from December 23 through January 2.
---

Member area meetings
For details, contact your member area coordinator or see member news.
West Coast -- December 6 via Zoom
Mid-Atlantic -- December 6 via Zoom
Heartland -- December 9 via Zoom
Southwest -- December 21 via Zoom
Delaware Valley -- January 19, 2022