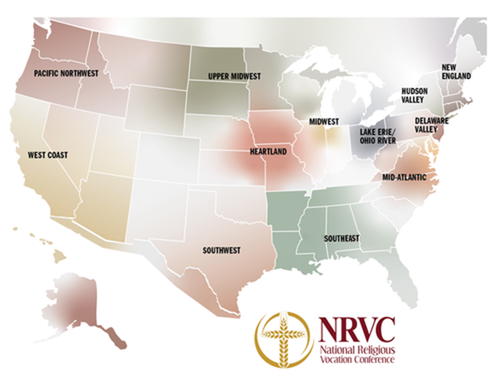 ---
Click here to locate members of the NRVC in your member area.

Member area coordinators, outgoing and incoming
The NRVC extends deep gratitude to these Member Area Coordinators who have served generously and are completing their terms effective June 30:
Sister Connie Bach, P.H.J.C. of the Midwest Member Area, six years of service.
Sister Barbara Bartlett, S.H.C.J. of the Mid-Atlantic Member Area, two years of service.
Sister Christine Still, O.S.F. of the Pacific Northwest Member Area, six years of service.
On July 1, Sister Jill Reuber, O.S.B. (Midwest), Sister Kathleen Persson, O.S.B. (Mid-Atlantic), and Sister Teresa Shields, S.N.J.M. (Pacific Northwest) will begin serving as Member Area Coordinators. We extend a warm welcome to them and thank them for taking on this responsibility. See all our member area coordinators.
---

NRVC using temporary space, change in mailing address
Catholic Theological Union (CTU) announced the intended sale of the 5401 Centers Building which has housed our National Office for over 20 years. The NRVC will continue to serve our members by working remotely while we search for the right space. A temporary space near CTU has been rented in order to maintain resources and facilitate the seamless provision of membership services. Please note the following: Mail should be directed to: NRVC 5416 South Cornell Ave., Chicago, IL 60615. Our office phone number will remain the same: 773-363-5454.
Please know this physical move will NOT impact the services we provide to our members nor our ability to meet your needs. All phone and mail inquiries will continue to be answered in a timely manner.
---

Resource of the month: Men's Culture of Vocations Assessment Tool
This eight-page assessment tool was developed by Brother John Mark Falkenhain, O.S.B. to help identify strengths and areas that need work in charism, community, spiritual life, prayer, work, preparation for celibacy, and relationship to the larger church. It can be adapted to a number of settings such as individual reflection, small group discussion, or strategic planning. $5 for members; $8 non-members. Learn more or order it here.
---

Fall Institute to be in-person in St. Louis
---

Registration still available for online Summer Institute
---

Add your events to the VISION calendar
On VocationNetwork.org
Whether your community events are virtual or in-person, spread your net widely by posting them on the VISION Vocation Guide free event calendar. Tip: some discerners prefer to attend non-vocation theme events with your community to get to know you.